REUNION is an annual occasion for UIC College of Nursing alumni from all campuses to reconnect with each other and their alma mater.
UIC College of Nursing alumni—along with faculty, staff and students—came together once again this fall to reconnect with our college and enjoy a fun-filled day of networking and celebrating.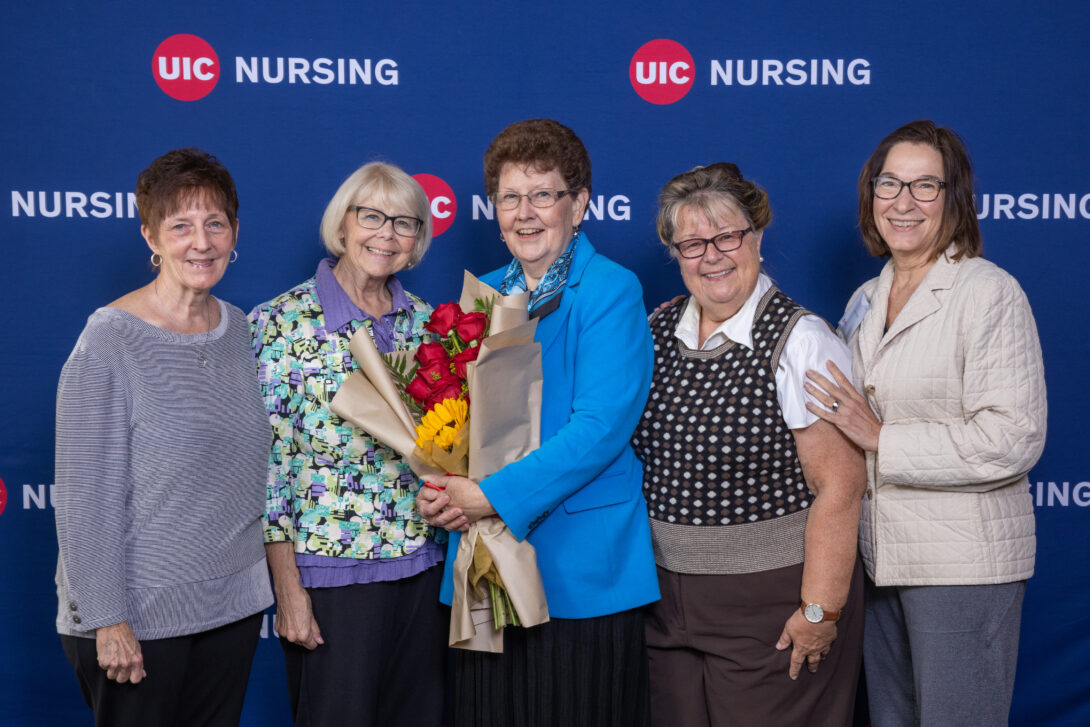 9 a.m.     Continental Breakfast
9:45 a.m.    Welcome and Updates from Dean Eileen Collins
10:15 a.m.    Tours of the UIC College of Nursing, Chicago Campus
Guests toured the M. Christine Schwartz Experiential Learning & Simulation Lab,  the Midwest Nursing History Research Center and multiple research labs inside the UIC College of Nursing
11:45 a.m.    Alumni Recognition Lunch
The room was tickled to hear from our 2023 Outstanding Alumni Achievement Award winners Holli Devon, PhD '02, MS '82; and Karen Sikorski, BSN '68. (Regrettably, Leslie Nicoll, MS '80, was unable to attend at the last minute.)
2023 Distinguished Alumni Award winner Yoko Shimpuku, PhD '10, who lives in Japan, was unable to attend in person but sent a warm greeting to share with our guests.
Friends and family of Lucy Marion, PhD '90, helped the college bestow a posthumous award on the nursing legend. Speakers included her former colleagues and fellow alumnae Lorna Finnegan, PhD '93, MS '88, BSN '80, and JoEllen Wilbur, PhD '84, MS '75. Most touching were remarks from Lucy's son Skipper, who represented a large group of Lucy's family in attendance.
We maintained our tradition of celebrating all graduates of all years ending in 3 or 8 and conferring gold medallions on our "Golden Alumni," those celebrating 50 years since graduating.