All-Alumni REUNION
An occasion for UIC Nursing alumni from all campuses to reconnect with each other and their alma mater.
body copy
Save the date for REUNION 2019: October 12!
Attendees will get to hear from a panel of alumni nurse leaders and take part in the official ribbon-cutting and tours of the brand new M. Christine Schwartz Experiential Learning and Simulation Laboratory. We'll also confer 2019 Alumni Awards, present medallions to 25-year and 50-year alumni, recognize 10-year alumni, and distribute certificates for graduates of all years ending in 4 or 9.
Get excited for Oct. 12 by viewing photos from the 2018 event.
recap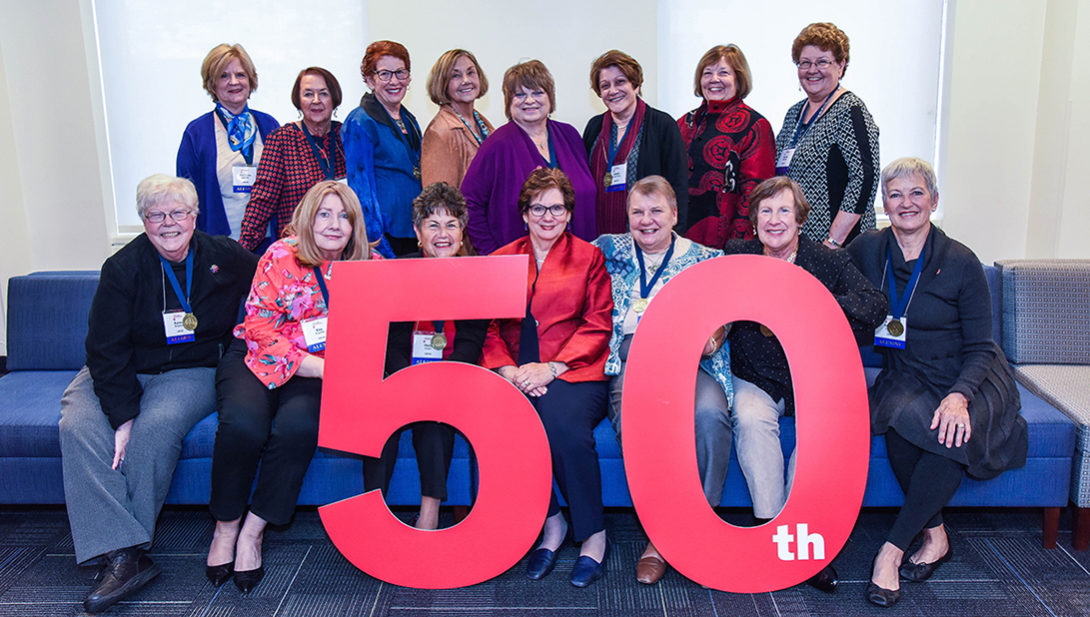 More than 100 celebrated at REUNION 2018
Stepping foot in the College of Nursing building for the fall all-alumni REUNION, class of '68 alum Roberta Allred found herself face-to-face with classmates she hadn't seen in 50 years.
"I'm so excited, I can hardly stand it," said Allred, who now lives in Wilmington, North Carolina, as she snapped photos with long-lost classmates.
From as near as the West Loop to as far as California, more than 100 alumni and friends came together at the fall all-alumni reunion on Oct. 13, a day to recognize and celebrate alumni.
In addition to giving alumni a chance to reconnect, the day-long program featured an alumni nurse leaders panel, a celebration of alumni award winners, and a continuing education presentation by 2018 Distinguished Alumni Award recipient Paul Kuehnert, DNP '12, MS '91, RN, FAAN, associate vice president-program for the Robert Wood Johnson Foundation.
"It just was wonderful to connect with people and to see the future of nursing," said Margaret Beaman, BSN '78, MS '82, PhD '87, who lives in southern California, adding that she enjoyed hearing about the accomplishments of alumni, the latest progress in research and meeting current students. "The University of Illinois is still doing a stellar job."
The day kicked off with a panel discussion on cost-effective, high-quality care with three alumni nurse leaders: Michael Patterson, MS '05, RN, FACHE, president and CEO of Mississippi Valley Health, Angelique Richard, PhD '99, RN, chief nursing executive at Rush Health, and Mary Shehan, BSN '81, RN, DNP, NEA-BC. (Meet our panelists)
After the panel discussion, alumni gathered for a celebratory lunch in honor of Kuehnert and Outstanding Alumni Achievement Award recipients Julie Creamer, MS '91, RN, president of Northwestern Memorial Hospital, Judith Hicks, MS '75, and Mary Maryland, PhD '94, FAAN. (Read more about the luncheon and these remarkable alumni.)
Kuehnert delivered a CE presentation on "Social determinants: Going beyond acute needs" where he challenged nurses to serve as catalysts for change in the healthcare system and society by leveraging two important assets: proximity to patients and a focus on unmet needs.
"We're inherently motivated to think about how to address needs, even when we can't immediately solve them," he said.
The reunion brought a strong showing from the class of '68, who were celebrating the 50th anniversary of graduating from the UIC College of Nursing. Sandy Masterson was one of about 15 alumni representing that class and has led an effort to stay in touch with her class over the years by organizing get-togethers and sending out newsletters.
She said the reunion was an opportunity to reconnect with classmates, especially those who no longer live in Illinois, as they told "war stories" about college life and caught up on current happenings.
"It always brings back memories," said Masterson, who now lives in the Denver area. "We enjoyed it thoroughly."
A look back on REUNION 2018: Oct. 13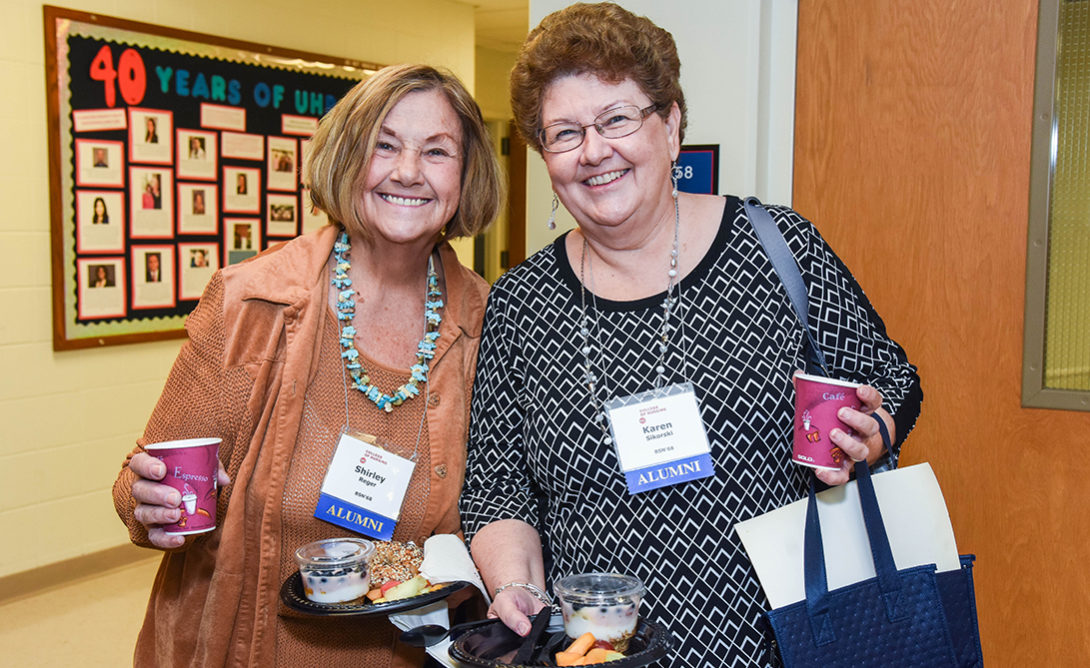 9am: Continental Breakfast
Guests reconnected and networked with fellow alumni over coffee, tea and treats.
Panel of experts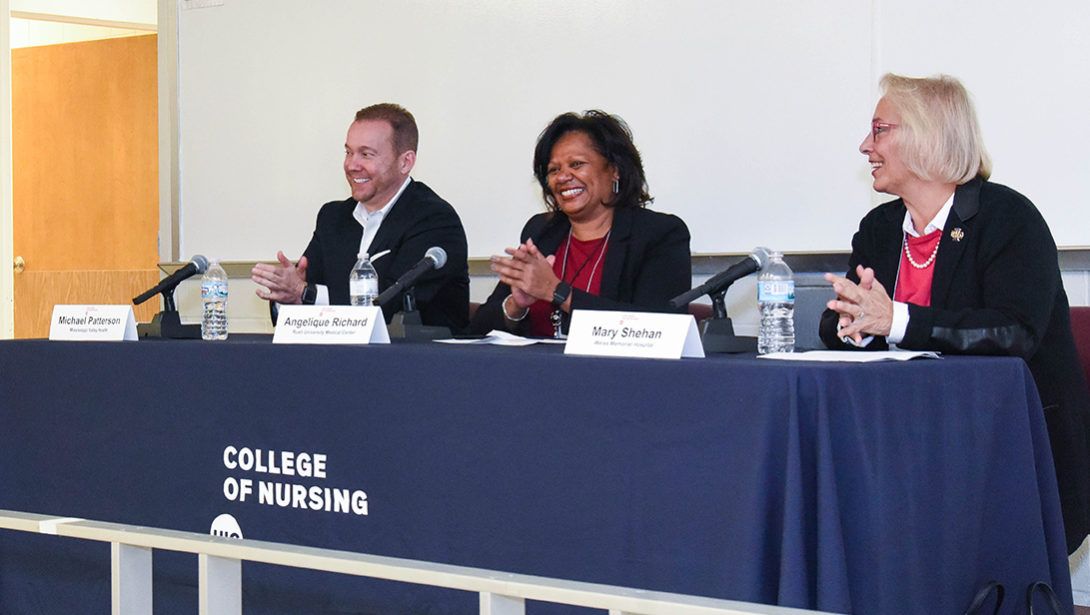 10am: Alumni Nurse Leaders Panel
Our popular feature of REUNION 2017 returned in 2018 : the panel of alumni nurse leaders. This year, our morning event featured experts addressing the question, "Can high-quality healthcare also be cost-effective?"
Our panelists included Michael J. Patterson, MS '05, president and CEO of Mississippi Valley Health in Davenport, IA;  Angelique Richard, PhD '99, VP of clinical nursing, CNO at Chicago's Rush University Medical Center, and chief nursing executive for the Rush system; and Mary Shehan, BSN '81, CEO at Weiss Memorial Hospital in Chicago.  Meet our panelists.
Honors luncheon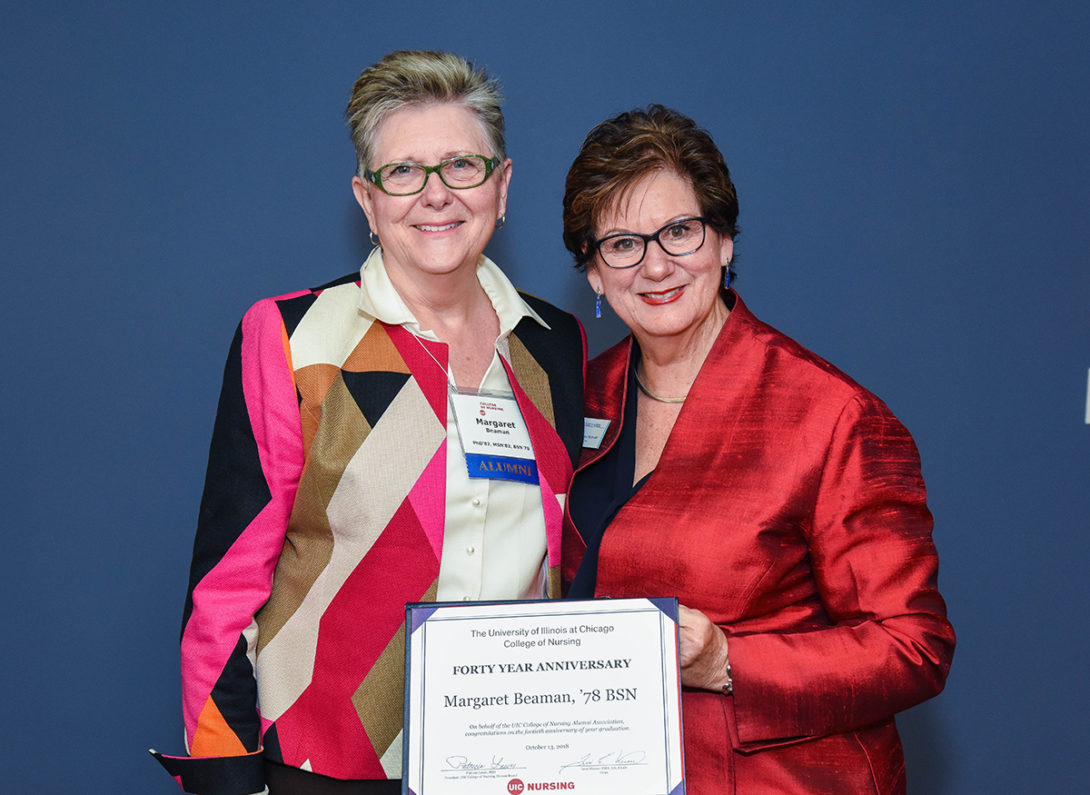 Noon: Alumni Lunch
During lunch on this special day, we recognized 2018 Alumni Award recipients alongside 40 years of Distinguished Alumni Award winners. Alumni from the Class of 1968 (50 years) received their Golden Alumni Medallion, and alumni from the Class of 1993 (25 years) received their Silver Alumni Medallion. All alumni who graduated in years ending in 3 and 8 received a commemorative certificate.
CE Event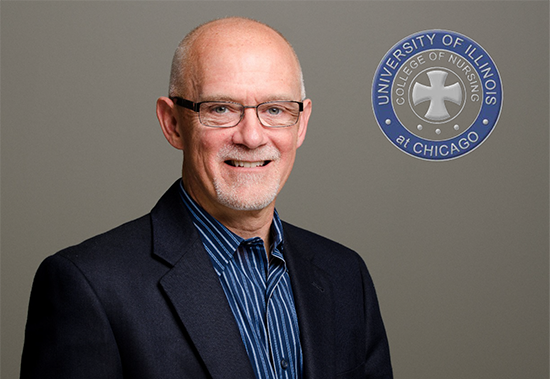 2pm: "Social determinants: Going beyond acute needs" –  1.25 CEUs!
The afternoon featured a learning opportunity regarding social determinants of health, led by Distinguished Alumnus Paul Kuehnert, DNP '12, MS '91. Participants learned to define social determinants of health (SDOH) in terms of both vital conditions and social needs, and they gained an  improved understanding of the importance of community resident engagement and collaborative relationships with community organizations in order to address SDOH.
This activity was offered for 1.25 continuing nursing educational contact hours. University of Illinois College of Nursing IHCI is an approved provider of continuing nursing education by the Ohio Nurses Association, an accredited approver by the American Nurses Credentialing Center's Commission on Accreditation. (OBN-001-91).
Location: 845 S. Damen Ave.
All the day's festivities happened on the main campus of the UIC College of Nursing.
Questions? Contact Sara Almassian